Carpeting in Harrisonburg, VA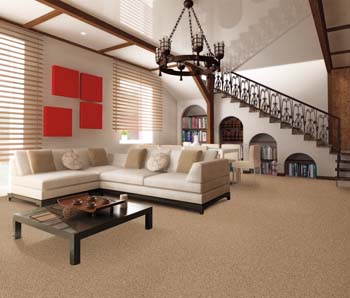 Carpeting is a popular flooring choice among property owners and for good reason. It is known for its durability, comfort and longevity. Browse through the wide selection at our carpet store to find a style, pattern and color that's right for you. We offer a huge collection of the most popular brands. With friendly, knowledgeable flooring representatives and flooring specials, we're positive you'll find the best carpet flooring that suits your needs in looks and price.
Many homeowners select carpeting for its natural comfort and versatile design choices. Our carpets are available in multiple textures, colors, hues, materials and patterns. The right carpet can make you see a room differently. For example, if you have a small room, carpet makes it appear larger. It blends in with the walls and the furniture to make a space seem roomier.
Carpets can also change the atmosphere of a room. Gone are the days where you only had a few options for your carpeting. Now you can choose from a variety of colors that make a statement. Bolder colors, such as orange, green and red, captivate anyone who walks in the room. Choose these attention-getting colors to reflect your unique personality and aesthetic preferences. You can even mix and match with your designs. We have carpets with multicolor combinations, patterns and designs that really accentuate a room.
Of course, neutral colors are always a good choice. In fact, neutral colors help soften a room and make it more inviting. Whether you want to go with a neutral color like white or beige is up to you. Our associates are more than ready to show you your available options and offer suggestions if needed.
The Benefits of Carpet Floors
Finding a carpet that satisfies your design and functional needs is easier than ever when you shop with us. A warm and soft material, carpeting also provides a comfortable walking and sitting surface. If you have small children or pets in your household, carpet makes a great addition. Its natural fibers are soft underfoot and provide a cushion to soften any falls.
Carpets also act as a sound barrier to help reduce noise between floor levels. Stereos, computers, television sets and speakerphones can be difficult to ignore if you're trying to get work done and require peace and quiet. Adding a cushion between floors allows one person to watch TV downstairs without disturbing someone else upstairs. You can even add carpet to stairs to help soften the sound of constant foot traffic.
In addition, if you have allergies or asthma, Berber carpet is a perfect flooring choice for you. Carpet traps pollen, dust and other particles and removes them from the air. Over time, you'll notice the difference in the air quality in your home.
Guaranteed Professional Carpet Installation
After you've purchased your carpet from our store, rely on our team to install it. The quality of your installation is as important as the quality of the product you purchase. As a reputable flooring store, we offer carpet installation services to ensure your flooring looks its best and lasts its longest. Before we install your new carpet, we conduct an in-home measure at no cost. This ensures that the measurements of the carpet are correct and that it fits in your home.
Our installation experts have years of experience on their side. Each of our carpet installers has been trained to properly install your carpet, so that your bare floors do not get damaged. We work efficiently and as quickly as possible without sacrificing quality. Getting the job done right is important to us. If you do find that you need an adjustment though, don't hesitate to call us. We offer a lifetime installation guarantee for all of our work. We'll return to your home and fix any installation-related issues free of charge.
Rely on our store for all of your carpet needs. As a locally owned carpet store, we know what our customers want and need. Each of our associates is committed to helping you find the carpet you need at a price within your budget.

Contact us today for a design consultation and a free estimate on the costs of new carpeting for your home. We proudly serve customers in Harrisonburg, Bridgewater, Broadway, Timberville, and Dayton, Virginia, as well as the surrounding areas.