Flooring and Carpet Installation in Harrisonburg, VA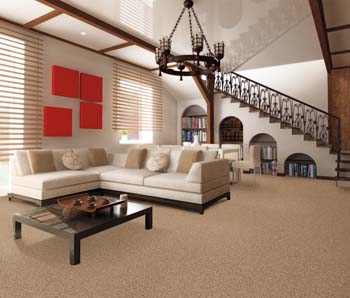 Add a plush and cozy feeling to any room in your home with the selection of carpeting from our local flooring showroom. Whether you are looking to upgrade your bedroom, living room, or entryway, you are sure to find something you love when you shop with us in Harrisonburg, VA. Our inventory includes products from some of the leading brands in the industry today. With our Frieze carpet and Weaver carpet, we have something to fit every want, need, and budget. Shop at our showroom today to discover more on our selection of materials
Beautiful Weaver Carpet for the Home
Enjoy a stunning look in your home for years to come when you choose Weaver carpet for every room. This flooring material is famous for its PureColor fiber technology, which is designed to resist fading while keeping your carpeting looking fresh. When you select these floors, you will not deal with wearing or staining.
Guaranteed Professional Carpet Installation
If you have children or pets, you already know how important it is to choose a durable and spill-resistant material for your flooring. Berber carpet is built to last, and it is designed to hold up against spills. No matter which style you choose for your home, you can count on this carpeting to look beautiful for many years to come.
In addition to its many stylistic benefits, Berber carpet also offers relief from allergies and asthma. This is because this type of carpet traps pollen, dust, and other particles, and removes them from the air. Over time, you'll notice the difference in the air quality in your home.
Shop with Us for Your New Carpeting
Carpeting is a popular flooring choice among property owners, and for good reason. This durable and comfortable material offers homeowners beautiful style while holding up to spills and heavy foot traffic.
At our showroom, we invite you to browse the wide selection of Frieze, Weaver, and Berber carpet we have in stock to find a style, pattern, and color that's right for you. We offer a large collection of the most popular brands in the industry today, for prices that will fit any budget. Our friendly and knowledgeable flooring representatives are available to work with you to help you choose your new materials.
Many homeowners select carpeting for its natural comfort and versatile design choices. Our carpets are available in multiple textures, colors, hues, materials, and patterns. The right carpet can make you see a room differently. For example, if you have a small room, carpet makes it appear larger. It blends in with the walls and the furniture to make a space seem roomier.
A Stunning Color Selection
Does your room have a classic or trendy theme? No matter what your taste preferences are, you will find something you love when you shop with our team for your Frieze, Weaver, and Berber carpet.
Carpets can change the atmosphere of a room to fit every preference. Today's style options make it easier than ever for you to add the perfect finishing touch to your space. Gone are the days where you only had a few options for your carpeting. At our showroom, you will be free to shop a variety of colors that make a statement. Bolder colors, such as orange, green, and red, captivate anyone who walks in the room. Choose these attention-getting colors to reflect your unique personality and aesthetic preferences.
If you prefer something more traditional for your space, shop with us for classic Frieze, Berber, and Weaver carpet. From white to beige, we offer our carpeting products in colors that soften any room. Our associates are happy to meet with you to show you your available options, and we are available to offer suggestions as needed.
Choosing New Carpeting
Finding a carpet that satisfies your design and functional needs is easier than ever when you shop with us. A warm and soft material, carpeting also provides a comfortable walking and sitting surface for spaces of all size. If you have small children or pets in your household, carpet makes a great addition. Its natural fibers are soft underfoot and provide a cushion to soften any falls.
We've all had to deal with a noisy neighbor who listens to music or watches television at all hours of the night. By choosing a new Frieze carpet or another brand, you will create a sound barrier to reduce noises between floor levels. Adding a cushion between floors allows one person to watch TV downstairs without disturbing someone else upstairs. You can even add carpet to stairs to help soften the sound of constant foot traffic.
Guaranteed Professional Carpet Installation
After you've purchased your carpet from our store, rely on our team to install it. As a reputable flooring store, we offer carpet installation services to ensure your flooring looks its best and lasts for a long time. Our experienced contractors are happy to come to your location to install your carpet in rooms of all sizes.
The quality of your installation is as important as the quality of the product you purchase. Before we install your new Frieze, Weaver, and Berber carpet, we come to your home to measure your space at no cost. This ensures that the measurements of the carpet are correct and that your new materials fit in your home.
Our installation experts have years of experience on their side. Each of our carpet installers has been trained to properly install your carpet so that your bare floors do not get damaged. We work efficiently and as quickly as possible without sacrificing quality. Getting the job done right is important to us. If you do find that you need an adjustment though, don't hesitate to call us. We offer a lifetime installation guarantee for all of our work. If any installation-related issues arise with your Frieze, Berber, or Weaver carpet, we will return to your home and fix the problem at no additional charge.

Contact us to shop at our showroom for your Frieze carpet or other products. We feature Weaver carpet for purchase for customers throughout Bridgewater, Broadway, Timberville, Dayton, and Harrisonburg, Virginia.