How to Choose Hardwood Flooring in Harrisonburg VA
Our showroom has flooring options for home and business owners. If you are looking to revamp your space, a great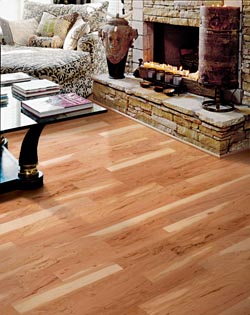 flooring option is hardwood flooring. If you have narrowed down your search and have decided on hardwood flooring, Weavers Flooring America will help you decide what is right for your space.
Choosing Hardwood Flooring from Numerous Species
Customers get a free in-home estimate for their hardwood floors in Harrisonburg VA. When we send flooring professional to your home or office, they can also help you determine the right type of hardwood flooring for your space. Our experienced team can work with you to match your existing décor or the vision you have for your space. If you come to our showroom, we can walk you through the options. Choosing hardwood can be simple if you have a team of professionals on your side. Our flooring expertsunderstand that you are your flooring purchase is no small investment and we will work with you until your find the hardwood flooring that suits both your style and your budget.
Professionals that Know How to Choose Hardwood Flooring
There are many types of wood that are used in genuine hardwood flooring. Our store is well stockedwith many high-end hardwood flooring brands that include the following species:
Oak
Hickory
Maple
Pecan
Red Oak
Birch
Ash
Cherry
Walnut
Bamboo
These are the most common types of wood used in hardwood flooring. The natural grain of the hardwood will upgrade your flooring and add appeal that will stand out for the lifetime of your home.
Environmentally-Friendly Hardwood Flooring Options
Our flooring storeis proud to specialize in eco-friendly flooring options. Sometimes customers eliminate hardwood floors as an option, but in truth there are green options available. For example, the bamboo is a fast-growing wood and its use in flooring is considered to be eco-friendly. In addition, customers can select reclaimed wood that has been revitalized for use in flooring.
Best Industry Guarantee on Wood Floor Installation
Our professionals will install your hardwood flooring properly and meticulously. As with any install, every customer is backed by our Ultimate Confidence Guarantee. That means if you are not happy with any aspect of your wood floor installation, we will fix it at our expense for the lifetime of your hardwood flooring.
Contact us for help choosing hardwood flooring for your home or office. We proudly serve the communities of Harrisonburg, Bridgewater, Broadway, Timberville, Dayton, and Staunton VA.