Laminate Flooring in Harrisonburg, VA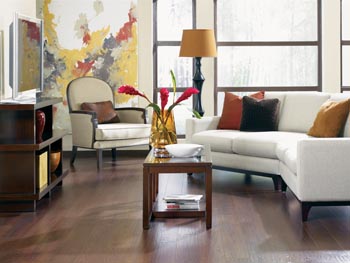 Find an attractive flooring option that won't force you to compromise on your budget. Our collection of laminate flooring in Harrisonburg, VA, is stylish, durable, and highly affordable. Visit our expansive flooring store to peruse numerous styles of laminate flooring options manufactured to mimic the texture and appearance of natural products like tile, hardwood, and stone.
Simply visit our showroom or go online to explore your options for new laminates. Our website catalogs all of our stylish products, allowing you to compare your favorites from the comfort of your home or office.
Mannington
HomeCraft
Mohawk
Pergo
Shaw
Armstrong
Discover Laminate Floors from Top Brands
Check out our laminate tile and laminate wood flooring selections, which are the largest in the area. Our showroom is your first source for dynamic and distinctive products you won't find anywhere else. In fact, many of them come directly from the country's most trusted manufacturers, such as Floorcraft and Star Values, as well as all of the following:
Limestone
Marble
Slate
Sandstone
Granite
Shale
Travertine
Get the Expensive Look of Stone or Hardwood For Less
Do you love the look of stone flooring, but hate the idea of readjusting your budget and your routine to care for it? Laminate tile flooring may be the perfect compromise. We carry a full range of laminate products in styles that look just like stone and other popular natural materials. Choose from a variety of different color options and textures designed to complement the design style of your home.
Few things are more transformative and affordable than installing new laminate tiles in a kitchen, entryway, or even playroom. Add a touch of elegance and style to a room with laminates that mimic all of the following high-end materials:
Limestone
Marble
Slate
Sandstone
Granite
Shale
Travertine
Thanks to advances in flooring printing technology, laminate wood flooring products look more and more like the wood they are meant to mimic. We are proud of the wide variety we have available in laminate woods. Our collections include a complete range of products that sport different finish options, textures, images, and glosses. Guests in your home will have a hard time distinguishing your floors from the real thing!
Laminate requires very little maintenance, so your floors will not lose their finish even after years of wear and tear. In fact, when you choose our professional laminate flooring installation, your investment will last for years to come. The finishes available for these products are beautiful and can withstand even the heaviest and most frequent foot traffic.
The Benefits of Laminate Floors
New laminate floors offer numerous advantages and benefits for any home or office. When you choose this type of flooring for your living or workspace, you'll experience all many services and benefits. Our flooring specialists recommend laminate floors for all of the following reasons:
Quick Installation
Affordability
Ease of Maintenance
Ability to Withstand High Traffic Areas
Comfortable Underfoot
Safe for Spills
Resistance to Dents and Dings
A Full Range of Options for All Design Preferences
Easy to Replace if Damaged
Eco-Friendly Solution
Good for Allergy Sufferers
Printing Looks like the Real Material
Mimics Other Flooring Types
Schedule a visit to our showroom to see every type in person. Our trained showroom team is more than happy to show you around, as well as walk you through even more benefits. Let us assist you in choosing the right floors for your home or business. Free in-home measurement sessions are available for clients looking to glean more insight into their projects' trajectory.
Professional Laminate Flooring Installation
Purchasing new floors is an exciting experience. However, the quality of your new flooring installation is every bit as important as the quality of the products you purchase. Be sure to schedule professional laminate flooring installation with our expert team to ensure your new floors look and function as intended - otherwise, you could end up with problems that impact the looks and longevity of your new floors.
Our experienced and skilled installers have all of the proper tools and equipment to make sure your investment is properly protected. Also, you can rest assured our contractors treat your home with the care and respect you expect. We understand the concerns that our clients have about construction projects in their houses. That's why we take time to clean up after ourselves, as well as keep you updated of our progress as we install your new laminate flooring.
Ultimate Confidence Guarantee
If you've purchased a four or five-star rated flooring product through our showroom, we guarantee you'll love it. If you don't love it for any reason at all, just let us know. We're more than happy to replace it, and we'll even cover the labor costs. That's the power of our Confidence Plus™ Warranty.

Contact us today to learn more about current deals on long-lasting laminate flooring. We are proud to serve the communities of Harrisonburg, Bridgewater, Broadway, Timberville, Dayton, and Staunton, Virginia.