Resilient Flooring in Harrisonburg, VA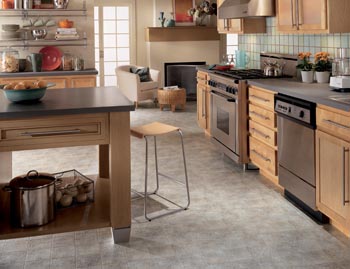 Do you need resilient flooring to accommodate children, pets, and an active household? Let our knowledgeable staff help you find easy care and pet friendly flooring that is perfect for your busy home. Our flooring options include tile and stain resistant carpet. Don't forget to ask about our selection of sealed flooring.
Choosing what type of flooring to use can be an overwhelming decision. With so many options, it can be difficult to settle on floors that meet all of your needs. Because of the different traffic levels, it is also important to think about what product is best for the intended location.


Options in Easy Care Flooring
When you need a tough flooring material that is easy to clean and resists staining agents, choose vinyl flooring. Not only does vinyl resist scratches, tears, and rips, but it is also an affordable option for any home.
For a higher-end look, choose a natural stone, like slate or granite. While these easy care flooring options are scratch and chip resistant, they must be sealed periodically to prevent stain and water damage.


Stylish & Durable Pet Friendly Flooring
When it is time to install a new floor, pet owners need to consider the additional wear and tear caused by their canine and feline companions. Your dog's untrimmed nails can really do a number on certain types of flooring, such as hardwood and some laminate flooring.
If your pet isn't quite house trained, you also want pet friendly flooring that is easy to clean up. Visit our store to find numerous attractive and strong options that are perfect for any size household with pets.
Additional Flooring Options to Consider
When you are looking for resilient flooring that is also environmentally friendly, consider low-maintenance linoleum. This material is not only biodegradable and all natural, but it also has almost no impact on the environment. In addition, it resists stains, tearing, and scratching.


Sensible Stain Resistant Carpet
A stain resistant carpet is the ideal solution for homeowners who want a less expensive flooring option that adds comfort and coziness to any room. Carpet is also great at helping to avoid slip and fall accidents, particularly if there are children or elderly members of your household. Choose this kind of carpet when you want flooring that is both easy to clean and comfortable for your feet.


Ceramic Tile Products
One of the most common resilient flooring choices is tile. With tile, you are able to get the look and feel of natural stone at a more affordable price. Ceramic tile is easy to clean by damp mopping, vacuuming, or sweeping. While it is not necessary to seal the tiles, coating grout lines can help keep floors looking their best.


High-Gloss Sealed Flooring
Protect your home improvement investment with sealed flooring. Whether you choose classic natural stone or trendy stained concrete for your flooring, a sealant adds a protective layer that improves resiliency and appearance. Let us help you choose a sealer that gives you the look you want.

Contact us when you are ready to upgrade your flooring. We serve customers in Harrisonburg, Bridgewater, Broadway, Timberville, Dayton, and Staunton, Virginia.