Tile Flooring in Harrisonburg, VA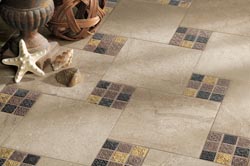 Choose tile flooring for a durable, low-maintenance floor option that represents significant savings per square foot over other types of floors. Porcelain or ceramic tile is the perfect fit for almost any room in your home, providing advantages in care and cleaning in high-traffic areas and stylish upgrades for a family room or other guest area.
Shop our showroom for tile flooring in Harrisonburg, VA, today to browse and buy from our wide selection of flooring options. We offer brands from such trusted manufacturers as Floorcraft and Design Distinctions. Plus, we also offer guaranteed professional tile flooring installation.
Ceramic Tile for Adaptability & Easy Maintenance
For many years, ceramic tile has served as the first choice for buyers who demand a combination of practicality and style. Examples of this tile have stood the test of time in a variety of historic structures. Modern techniques have turned ceramic floors into one of the most flexible flooring options available to any property owner.
Even on the tightest of budgets, the style and convenience of a ceramic tile floor is not out of reach. This flooring comes in a wide range of colors, textures, and tones. Each tile has a natural variation of shades from the baking process, meaning that every tile flooring installation is unique.
How to Keep Your Tile Looking Brand New
One of the greatest benefits of ceramic tile is its low-maintenance needs and ability to look brand new for years. Keeping your floor tiles looking pristine is as easy as keeping dirt and dust off the surface, promptly cleaning up spills, and using the right cleaning methods on your floor. To keep your porcelain or ceramic floor looking like it was just installed last week, follow these easy maintenance steps:
Clean up Dirt and Spills Immediately
Sweep Your Floors Each Day
Mop Periodically with an Approved Cleanser
Avoid Using Harsh Detergents or Scouring Pads
Do a Spot Test Before Using Any Cleaning Solutions

It's vital to keep dirt and dust off your floors in order to keep them looking and functioning great. Over time, dirt settles into the tile floor, leaving it looking dull and dingy. In addition, many types of detergents can leave a filmy residue on your ceramic floor, so it's important to always use ceramic-specific cleaning solutions.
Great for Any Room in Your Home
It is also a great flooring option for outdoor areas like the patio, poolside, or outdoor kitchen areas. Because it is resistant to extreme temperatures, it will not crack or warp its shape due to very hot or cold conditions. When combined with its moisture resistance, ceramic tile flooring is the obvious choice for any room or area of your home.
Benefits of Porcelain Tile
Porcelain provides a modern look for any space, but its durability makes it especially appropriate for an indoor/outdoor space such as an entryway or a patio. Porcelain tile can be installed at any grade, and is extremely frost resistant. It is scratch and stain resistant, beautiful, and long-lasting. Many people choose to use porcelain for their kitchen flooring option because of its water resistance and easy maintenance.
This tile provides years of durability, even when exposed to the elements. A porcelain tile flooring installation is easy to maintain, and any damaged or stained individual tile can be inexpensively replaced.
Guaranteed Tile Flooring Installation
An often-overlooked advantage of these floors is the ease of tile flooring installation. There are several ways that ceramic tile flooring saves you money during installation. Because it is easy to cut and shape individual tiles to fit any space, material waste is minimized. Our free in-home measurements allow you to buy exactly as much tile as you need for even the most complex space.
Installing a ceramic floor is fast and easy, saving you money on our already-affordable labor costs. Our skilled installers can lay down a porcelain or ceramic tile floor quickly and accurately, so you can start enjoying your new floor as soon as possible. Count on our lifetime installation guarantee to cover all of our work, and Four or Five Star floors come with the Confidence Plus guarantee. If you are not satisfied with your new 4 or 5 Star rated floor within 30 days, we will replace it for free, including labor.
It's best to allow our qualified technicians to install your new flooring so that it lasts as long as possible. Our experienced specialists use the highest quality equipment and installation methods to ensure that your new floors look and function great. We thoroughly remove all your old flooring materials, prepare the subfloor, and precisely install your new tiles so that they're straight, level, and even.

Contact us to add new ceramic tile to your home. We're proud to work with clients in Harrisonburg, Bridgewater, Broadway, Timberville, and Dayton, Virginia, as well as the surrounding areas.