Vinyl Flooring in Harrisonburg, VA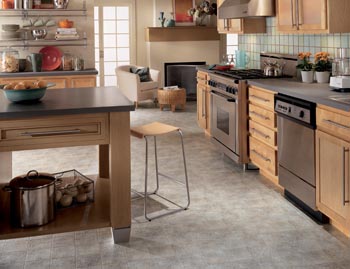 Visit us at our store or online to view our wide selection of vinyl flooring options. Our attentive staff is ready to help you narrow down the selection and help you choose the perfect flooring for your home.
Whether you desire a completely updated design to match your current decor or simply want a floor that can withstand the heavy foot traffic of your family and friends, our team of knowledgeable associates offers a vast selection of styles, colors, and materials to fit your every need and budget. When you visit our spacious and extensive showroom, you are able to witness firsthand the countless vinyl tile flooring and vinyl plank flooring options that make the difference between a dull house and a breathtaking home. We do everything possible to make every room look the way you expect it to while still maintaining the durability factor that you need.
Durable and Spill-Proof Vinyl Sheet Flooring
Vinyl sheet flooring has become the practical, affordable, and striking solution for residential and commercial properties throughout the country. Vinyl sheet is a less expensive option for flooring, as it can be mass-produced and cut down to the exact size of your room with ease. Because you install the flooring in large, solid sheets, there are fewer seams. Therefore, there is less of a chance for moisture to seep into the ground. For this reason, a vinyl sheet floor is an economical choice that saves you countless dollars in future repairs and complete floor replacements.
Ensure the beauty of your floors lasts throughout the years ahead by choosing vinyl. Depending on the brand you choose, our vinyl tile flooring comes with up to three wear layers. These layers are important in protecting your floors against heavy traffic, scuffs, scratches, and other normal wear and tear.
Additionally, the wear layer provides an extra barrier against liquids and stains, allowing the material to be completely moisture-proof. This means you can put your new floors in any room of the house, using vinyl plank flooring to get the look of hardwood in your bathroom or vinyl tiles to mimic natural stone in your kitchen. This waterproof barrier also makes vinyl easier to clean, allowing you to enjoy the look of your floors longer and with less upkeep.
Professionals with Knowledge of Vinyl Tile Flooring Options
Vinyl tile flooring is available in a wide assortment of colors, patterns, and designs that transform your home without breaking your budget. Tile gives you the chance to create unique patterns and designs for every room while still allowing for simple cleaning and maintenance.
Get the flooring you are looking for when you browse through our inventory. Not only do we have many different colors, patterns, sizes, and textures of vinyl flooring, but we also have an experienced staff to ensure you find the floors that best suit your needs in looks, performance, and price. If you notice a scratch or scuff on one section of your floor, you are able to remove a singular tile and replace it with ease. This saves you time, effort, and money spent on a full flooring replacement.
When you consult with us, we ask you questions about your budget, which rooms you plan on remodeling, your personal style, and other inquiries that help us guide you through the selections. Our quality services don't stop after you have chosen your preferred vinyl option. We also provide affordable vinyl flooring installation services so you can get beautiful floors at a cost that matches your price range.
Affordable Selection of Vinyl Plank Flooring
Bring the high-end beauty of hardwood flooring to your home without worrying about the upkeep. Our crew offers sleek vinyl plank flooring options that create a stunning atmosphere in your home. You receive the classic look of traditional wood flooring that is waterproof and resistant to scratches and wear, giving you a lasting solution to maintaining a beautiful home. Count on our experts to give you the plank or vinyl tile flooring you need for a price you'll love. Our large buying power means we have a large inventory of high-quality, low-cost vinyl.
Many customers who come in looking for hardwood don't realize how great of a cost-effective solution vinyl plank flooring can be. With modern processes, our vinyl options can be patterned and embossed to replicate wood grain, stone, and ceramic, giving you the look you want at a more affordable price.
Quick and Efficient Vinyl Flooring Installation
Take advantage of our installation services to ensure a beautiful and durable final product. Our vinyl flooring installation experts have the knowledge and experience to provide highly functional floors that will last for many years to come. By using our installation solutions for your vinyl sheet flooring, you guarantee a protective seal that keeps it from bubbling or allowing moisture to get in, ensuring you get the exact floors you planned.
Along with our Confidence Plus Warranty, our specialists are confident in their ability to provide your vinyl flooring installations with the utmost craftsmanship and speed. Our locally owned store is known for our commitment to personalized service while ensuring that we accommodate your every need. Our goal is to maximize your convenience -- we always install your vinyl flooring with minimal disruption to your daily routine. With our help, you receive an affordable, polished floor that will last for years to come.

Contact us today when you need vinyl flooring installation services for your home or business anywhere in Feasterville, Holland, Southampton, Warminster, Willow Grove, Levittown, Fairless Hills, Cheltenham, Ambler, Glenside, Yardley, Newtown, Morrisville, or Bristol, Pennsylvania.