Beautify Your Interior with Wood-Look Tile in Harrisonburg, VA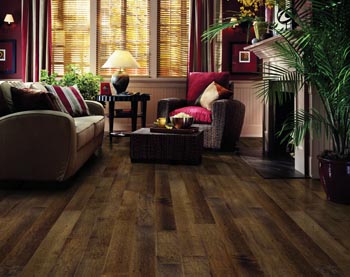 Elevate the look, appeal, and value of your home with products from Weaver's Flooring America. We are your source for wood-look tile in Harrisonburg, VA. At our showroom, you will find the products, resources, and support to make your remodeling project a complete success. Explore your interior design options and turn your home improvement ideas into a reality.
The Strength of Ceramic and Porcelain with Nature's Beauty
Now, there is no need to make compromises between form and function. With ceramic and porcelain wood tile, your interior design options are limited only by your imagination. A standout feature of this flooring category is that tile successfully emulates the appearance and texture of natural hardwood. Now, the strength of tile is available in a variety of wood species, such as pine, oak, and mahogany.
Much of tile flooring's strength comes from the manufacturing process. Ceramic and porcelain are crafted from clay, sand, and water. Our showroom representatives can teach you about the differences between the two tiles types. All in all, both ceramic and porcelain are solid choices for any room in your home. They both hold well against everyday foot traffic, making them great additions to hallways and common areas.
Enjoy the beauty of Nature anywhere throughout your home. Wood plank porcelain and ceramic tile are highly resistant to water. In turn, you can enjoy the look of hardwood in moisture-prone rooms like the bathroom, basement, and kitchen. The distinct grain textures and designs of this flooring will give your interior a unique ambiance.
Wood plank ceramic and porcelain tile are also easy to clean and maintain. Dirt, dust, and most liquids will not stain tile flooring easily. In turn, you spend less time and energy clearing away spills and accidents.
Keeping your home comfortable is also a simpler matter with porcelain and ceramic wood tile. Tile has distinct cooling and heating properties that help keep indoor temperatures manageable throughout the year. This flooring disperses heat evenly during the warmer months, which gives your AC system a break. Tile flooring is also a recommended complement to underfloor heating systems, which keeps your home pleasantly warm during the colder months.
Completing Your Remodeling Project Has Never Been Easier
At our showroom, you have the assistance you need to get picture-perfect results. We have an extensive catalog of wood-look tile flooring in hundreds of different styles and designs. Your re-flooring options are limited only by your imagination. As always, our friendly showroom staff is available to consult with you about the details of your project and make recommendations.
The strength and staying power of your new flooring depend on a successful installation. When it's time to complete your project, let us handle the hard work. We have a trained, skilled, and experienced team available to install your new flooring. Our flooring experts work diligently to ensure your flooring is placed quickly and accurately, so you may enjoy your new interiors for years to come.

Contact us to learn more about our wood-look tile flooring. We serve customers in Harrisonburg, VA, as well as Bridgewater, Broadway, Timberville, Dayton, Staunton, and the surrounding area.